It would be hard to compile a complete list of Cult rarities since they've released so many remixes, edits and sets, so I'm not going to try.

What you will find here are some fun facts, links for solo projects and Cult-related items from Amazon.com






Literary Cult


Don't be fooled by the (long) title: The Dark Reign of Gothic Rock: In the Reptile House with The Sisters of Mercy, Bauhaus and The Cure - this new book by Dave Thompson is much more than something black-eyeshadowed teens will want to be seen carrying around. Starting with Iggy Pop's The Idiot, this book covers the gamut -- The Damned, Siouxsie, Nico (yes, Beyond Good and Evil's Nico), Joy Division, Gene Loves Jezebel, and many more -- with the focus always where it belongs: on the music and the music scene.

The Cult, including early incarnations Southern Death Cult and Death Cult, are featured in nearly every chapter, like a thread tying everything else together. Conversations with Ian Astbury appear throughout the book lending insight to the band's roller-coaster past, as well as the Cult's important role in music history.

Unfortunately this book is now out of print. You may find a copy through an individual seller at Amazon (click the cover to find) or you can try ordering from the publisher Helter Skelter Books for telling me about this great read!






Did you know....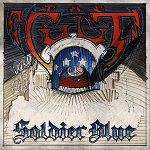 Soldier Blue was almost released as a Sonic Temple single? The idea was later scrapped, but not until cover art had been designed.

You might recognize the design if you have the Best of Rare Cult CD, and if you read the booklet credits you'll find that its cover was "...adapted from an original design by the late Rick Griffin, renowned for his poster and record jacket designs in the sixties, [and] originally intended for a single sleeve of 'Soldier Blue' in 1987."


Rick also designed the Electric-style Cult logo that's been synonymous with the band ever since, as well as the sleeves for the Wildflower and Love Removal Machine singles.

Thanks to Tim Stephenson for the Soldier Blue art -- check out his Rick Griffin site!






Other Cult music available from Amazon.com


Southern Death Cult
Southern Death Cult
The "official bootleg" 1982-83 recordings of Ian's post-punk band that set all this into motion. Includes "Moya" and "Fatman".
buy now

Ghost Dance
Death Cult
1983 EP - Ian, Billy and Jamie's first outing. A personal fave since the booklet mentions my old pals Abbo and UK Decay. Includes "Brothers Grimm" and "Horse Nation".
buy now


Fire Woman
A Tribute to the Cult
A good mix of titles performed by artists including Enuff Z'nuff, Love/Hate's Jizzy Pearl, Aerosmith's Jimmy Crespo, GnR's Gilby Clarke, and a lot more!
buy now


High Octane Cult
1996 "best of" collection put out by Warner/Reprise that probably sold enough to make Beggars Banquet realize Pure Cult would be a good idea. The track lists are similar but as always, just different enough to entice hardcore collectors.
buy now


Spirit\Light\Speed
Ian Astbury
Ian's 2000 solo project, includes "The Witch" and 9 more tracks.
buy now

High Time Amplifier mixes
also available



Cream
Holy Barbarians
1999 release from Ian's side project. Astbury with electronics.
buy now


Coloursound
Coloursound
1999 debut from Billy's collaboration with members of The Alarm and Mission UK.
buy now



Best of Theatre of Hate
Theatre of Hate
Best known for "Westworld" Billy's early band put out a lot of good material.
buy now find more





Live Cult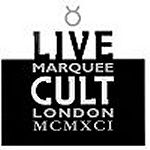 Live at the Marquee

No longer available, but you may find a copy from an individual seller on Amazon.com

The usually-extremely hard to find double CD set of the Cult's live performance at London's Marquee Club November 27, 1991 is currently available from Amazon.com - get yours quick while you can! The show was a "thank you" to the fans after the band's successful Wembley Arena shows.

As the liner says, "No overdubs and no edits" -- if you've never heard this you'll be amazed at how good these songs sounded that night. Both discs are in a convenient single-disc size jewelbox. A previous single-disc version of this gig was hard enough to find, but this is the entire set with the newly-added second CD.


DISC 1

Nirvana
Lil' Devil
Spiritwalker
Horse Nation
Zap City
Brother Wolf, Sister Moon
Revolution
Love
Rain

DISC 2

The Phoenix
Wild Flower
She Sells Sanctuary
Full Tilt
Amplification Breakdown
Peace Dog
Love Removal Machine
Earth Mofo
Fire Woman